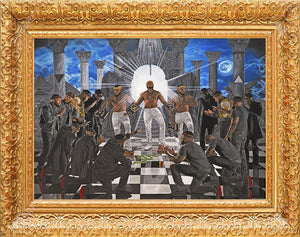 Eye Once Was Blind is originally painted with Acrylic on Canvas, and finished in 2020. The idea came when I was looking at the tattoo on my chest which says "In the Land of the Blind, the man with one eye is the King". I wanted to do a painting symbolizing self elevation and transformation. There are so many small details and meanings within this masterpiece. This is part of the reason it took 5 months to complete! Hopefully, anyone who owns this piece, will slowly uncover them. When you see this self portrait, i want you to see yourself in my place. Life is about learning and becoming the best version of ourselves.
- Limited Edition -
36x48 limited editions 18 total
Slightly Embellished (Acrylic Paint added by artist)
Hand signed and numbered
Optional Gold Frame (price not included) 
Certificate of authenticity.
- Specs - 
Handmade-Gallery wrapped and framed over 1.5-inch wood
Giclee printed on high-quality canvas
All materials used are original Long lasting art piece
Made in US
 Original piece not yet for sale.