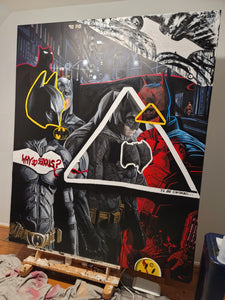 "The Dark Knight Paradox "- 2022- By

Justin

Wadlington - Originally Painted w/Acrylic on size 60x72 Canvas. 
This is the 2nd Original painting by
Justin
Wadlington in 2022, and it doesn't disappoint! The original  was created with Acrylic paint, using WADLINGTON paint brushes.
The Dark Knight Paradox is a mashup of some of the most popular versions of The Dark Knight, as well as other hidden clues which bring the painting together. Look closely and you'll spot a few. Especially if you know what to look for when viewing.
I believe this painting is a fun take on that multiverse, and I AM happy to have put this into our universe.
----
These signed canvas prints are surly collectors items, and are the closest 

you'll

 get to having the 

original. 
Giclee printed on high-quality canvas
Hand-gallery wrapped and framed over 1.5 inch wood 
All materials used are original and sustainable 
Made in USA